This detailed Naked Wines review has everything you need to know, including the benefits that they offer as a wine subscription service as well as all the features available. So be sure to go through the following sections of this comprehensive Naked Wines review 2021 to discover more.
The Naked Wines brand is a popular online wine shop. That is why many individuals want to learn more about it. If you are one of those individuals looking to learn more about Naked Wines, then no need to worry.
What is Naked Wines?
Founded by Rowan Gormley, Naked Wines is an online wine shop that has its headquarters in Norwich, UK. The wine shop was established on 1st December 2008 in the United Kingdom. In the year 2015, Majestic Wine, a British brick and mortar retailer, purchased the online shop. At the moment, it operates in the United Kingdom, the United States of America and Australia.
Essentially, the Naked Wines online shop connects small independent winemakers with wine lovers in the United Kingdom. All mediators that normally squeeze themselves in the middle, ranging from marketers to distributors and agents, are gone. This brings the wine price substantially down, a saving that is passed on to wine lovers.
On the other hand, the wine makers are paid the whole amount that the customers pay, minus the transportation costs and the ten per cent commission that usually goes to the Naked Wines Company. The success of the company is found in two main tools that it has successfully leveraged. These tools include Naked Wine Marketplace and the Naked Wine Angels.
The Naked Wine Club is backed by more than 200,000 subscribers in the United Kingdom and 100,000 in the United States. In this online shop, the subscribers are referred to as the Angels, who have managed to invest more than £3 million every month in small-scale vintners and wineries who can't otherwise produce wines due to a lack of enough marketing funds.
On top of that, Naked Wine Angels are entitled to massive discounts compared to the usual retail mark-up. The company provides a periodic win club membership that is designed to save customers more than one-half of their wine expenditure. This great business system allows you and fellow wine lovers to help independent winemakers stay in business while at the same time rewarding you with extra discounts.
How Does Naked Wines Work?
For you to understand how Naked Wines work, you need to experience the special onboarding process of the company. It starts with the Get Started button available at the top part of the website.
This button helps you to create an online account and opens up an active questionnaire session. It is designed to help you pay attention to the services and features available and figure out the extra amount of money that you are paying for the same wine products.
Once you are done with the Naked Wines account creation process, you can proceed to choose and pick from the options available, including white, red or a combination of both. The next important thing is to subscribe by investing in the Wine Club Angel account. All of your investments will be converted into credits and discounted towards the exclusive wines orders that you create.
The shop allows you to buy wines online at a discount since you're not dealing with anything that goes into the retail process. Also, there're lots of subscription-like options where you become an investor instead of a subscriber, allowing you to increase your wine savings account balance.
Naked Wines has been around for ten years, and it has built its business operations on a commitment to provide customers with high-end wines for reasonable prices. Currently, the company works with 120 talented wine makers from across the world to bring the best wine products into the homes of their clients and investors.
Naked Wines Business Model
Naked Wines features the best business model that allows it to provide top-notch services and products to their wines people and customers. The business model includes customers called Angels. These Angel members fund independent makers of wine from all parts of the world in return for unique wines at wholesale prices. The online shop currently ships wine throughout Australia, the USA and the UK.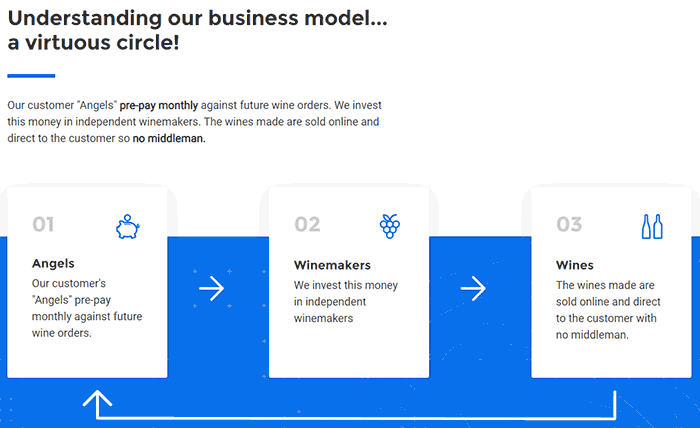 The Naked Wines model utilises the social network principles, encouraging wine lovers to review their products and interact with other customers through the internet. Reviewers give the best wine products Likert-scale style scores out of five. Also, they provide a no or yes answer to whether they would purchase a particular wine again as well as a textual description. When potential buyers visit the wines' page, they'll see the ratings of customers who have said they would order wines again.
The Arch Angels is a small group of dedicated customers that the Naked Wines online shop has invited to take the role on the basis that they actively engage on the platform to help other wine clubs and customers review all of the best wine products available.
At the National Business Awards in 2011, the Naked Wines online retail shop was named the Online Business of the Year. Also, in 2013, the London Stock Exchange Group named Naked Wines among the top 1000 online companies to inspire Britain, winning the award for the Top Online Retailer.
What is a Naked Wines Angel?
A Naked Wines review cannot be complete without mentioning the company's Angel community. With a £25 monthly subscription from customers, they can help invest in both established and small winemakers across the world. The company currently invests in more than 120 winemakers, and the company's Angel members are integral to this funding.
Your monthly subscription of £25 and the cash invested by other wine clubs and individual lovers are pooled by the company that provides winemakers with funds to create their products, which are then sold on the Naked Wine's website.
You should not fear losing your £25 monthly subscription since each month, the company includes it in your Angel account so that you can use it to purchase more good wines. Primarily, the Angel program is just like your little bank account savings, which is pretty neat, especially when you consider that Naked Wines is all about providing unique wines at wholesale prices.
Not only that, but all Angel members enjoy a massive array of other benefits, which include the following:
Exclusive Access
All Angel members enjoy 30-day access to special wine prices as well as lots of other perks with their membership each month. Some of the perks that the Angel scheme members enjoy include savings of between 40% and 60% on all of their wine orders.
Additionally, there are free bottles of wine each month that return Angels get each month when they order a case. Another appealing Angel thing is that wine samples are provided and delivered free of charge.
Wholesale Prices
Are you aware that approximately 90% of what you pay for a bottle of wine goes to things other than the consumable substance? The prices of wines spike as a result of taxes, shiny covers, marketing, distribution and transport fees. Prices that the Naked Wines Company offers are 60% less compared to the typical prices since you gain exclusive access to wines directly from talented winemakers without middlemen.
Complimentary Gift Bottle
Every Angel member at Naked Wines receives a bottle of wine popularly known as an Angel bottle. The Angel bottle is provided as a thank you gift each month from different wines manufacturers who are part of the wine club. You will see your free bottle in your cart when you are ready to make an order.
100% Guarantee
As an Angel wine club member, you have the ability to spend your wine credits that you earn for monthly investments to purchase wines on the platform or withdraw them anytime you need to. The philosophy of Naked Wines is very simple and straightforward; your cash, your choice, meaning you have the rights to spend it the way you want.
Communicate Directly with Winemakers
Naked Wine Angel club members can communicate directly to all good wine manufacturers. If they have any questions on gluten as well as other additives, they can ask under the wine manufacturers' profiles to get a quick response directly from the wine provider. This helps them to understand more about the good wine products that the company offers.
What Wines Can You Buy from Naked Wines?
Naked Wines online shop offers a wide range of wines. Whether you are a big fan of white or red wines, you will find plenty of options to choose from. Also, there is a combination of white and red wine, which offers an extra option. Both seasoned and new customers can take advantage of the good prices on offer to purchase their favourite wines. Also, there are both popular and new wines for you to pick from.
Many wine lovers always order a minimum of six wines, and each one of them features a fair price. Here are the six great wines that you can purchase from the Naked Wines platform:
Christian Patat Appassimento 2020
Christian Patat Appassimento 2020 is one of the most popular wines of all time at Naked Wines. This big red wine is made from juicy grapes that sunbathe in the Italian sunshine, sending their flavour via the roof. The result for this is a wine that roars with muscle and power and provides you with the much-needed unmistakable Italian charm.
Every drop of this big red wine is jam-packed with a tantalisingly intense fruit, wrapped in a massive oaky hug. Its market price is £13.99 while the Angel price is £9.99. All Angel wine club members can save £4.00 when they purchase this popular wine.
Cause and Effect Sauvignon Blanc 2020
Cause and Effect Sauvignon Blanc 2020 is another popular wine that you can order from Naked Wines online shop. The wine is manufactured from the best fruits in the world. The fruits are harvested in the cool night and then gently pressed to preserve all of the classic Sauvignon Blanc characters.
The result for all this is a powerful yet poised and elegant yet complex white wine. Its market price is £13.49 while the Angel price is £9.99. This means that the Angel club members can save £3.50 when they decide to buy this particular wine.
Carlton Pinot Noir 2019 – Chris Baker Yamhill
This wine is full of blueberry and blackberry flavours. This prized Pinot was sourced from a pair of popular vineyards in the Yamhill-Carlton area of Willamette Valley. This small part of Oregon wine grows the most admired Pinot in the United States. This smooth red wine is available at a market price of £22.99, and Angels can get it at £17.99, meaning they can save £5.
Grasshopper Rock Central Otago Pinot Noir 2017
This fruity red wine is made from fresh cherry and raspberry fruits. It features flavours of these fruits, which are handpicked from the Central Otago vineyard. The final product for this is a complex and top-shelf red wine with subtle herbal notes, a lovely lick of oak and a sweet spice. The market price for this wine is £26.99, while the Angel price is £18.99. By purchasing this fruity red wine, Angels are able to same £8.00.
Arabella Winemakers Reserve 2020
Jamie de Wet and Stephen are the two guys behind this bestselling wine. This smooth red wine features an alcohol percentage of 14.5%. It is a perfect product for all wine enthusiasts as it is manufactured from dark chocolate, liquorice and blackberry.
The wine is a powerful favourite that has proven to be a safe companion to a Sunday roast. If you purchase Arabella Winemakers Reserve 2020 at the market price, you will have to spend £14.99 on it. And once you become an Angel member, you can only spend £10.99 on a single bottle of this wine, meaning you will save £4.00.
Virgile Joly Bourret 2020
Virgile Joly Bourret 2020 is a crisp white wine that was designed for the Angels. Terret Bourret, grapes combined with a touch of Picpoul are behind the creation of this exceptional, light, fresh wine that comes with a fruit taste. It has a 12.0% alcohol content, and its market price is £11.99. The Angels price is £8.99, meaning you can save £3.00, which is a good deal.
Naked Wines Pricing
Another appealing thing that Naked Wines does is to set the prices based on customer ratings. Once they have received more than 250 ratings on a given wine, they use quarterly reviews to set the price based on how customers have rated it online. Their feeling is that the wine producers that over-deliver on the quality of their respective wines deserve more. Now here is what is truly unique.
If you buy any wine and then its price drops within 12 months, you receive a credit in your saving scheme account for the difference. The free credits will reflect into your account as real money. When the money accumulates, you can use it to purchase more exciting wines.
Overall, Naked Wines offers a perfect way to save some money on great wine bottles with its pricing strategy. The prices are reasonable, and they vary based on how many bottles of wine you choose to purchase. There are a few coupons that you can use when placing an order to save a significant amount of money. When you decide to be an Angel, you'll be spending £25 each month.
When it comes to additional costs, you will need to pay a shipping fee. Naked Wines charges only £9.99 on wine orders of less than £100 within the United Kingdom. Each shipment is packaged and transported carefully to minimise damages. When you combine the shipping fee and the price of the wines on offer, you will discover that Naked Wine prices represent the most affordable from the win clubs, providing an extra value for Angels.
How to Buy from Naked Wines
The process of purchasing a wine from Naked Wines online shop is not only simple but also straightforward. You just need to go through a few steps, and you will be able to receive your bottles of wine. Whether you are a Naked Wines Angel or a new customer at the platform, you will have to browse, add a case to the basket and then checkout.
Alternatively, you can live chat with support agents, and they will place a wine order for you. Naked Wines ships in cases of six, and any bottles between 12 and 18 are delivered free of charge. The total cost of the bottles must be £100 or more for you to enjoy free delivery services. However, you should keep in mind that any voucher spend does not qualify for free delivery.
Sometimes a gift message and delivery instructions can be added to your wine order. Another thing to keep in mind when making your order is that Naked Wines will not be in a position to ship in cases smaller than twelve. You should remember that all of the send wines are covered by the 100% no quibble full refund guarantee.
The cards that you can use to pay for your orders and enjoy same day delivery are MasterCard, Visa, Maestro, and American Express. Make sure that your billing address blends smoothly with the address of your bank to enjoy smooth transactions.
If you order a wine and discover that you do not like it or it is just not your taste, there is no need to worry. Naked Wines will pop a credit refund back in your account for you to use on another order. The best way to arrange for a refund is to live chat with the support team or send an email.
Naked Wines Customer Service Review
Naked Wines guarantees that you will enjoy the wines you purchase from the company as well as all of the services available. However, this does not mean that you will not need any help from the customer support team.
If you encounter any problem when making an order, or you receive a wine that you don't like, you can contact the friendly support team through live chat, phone lines or email (help@nakedwines.com). Support services at Naked Wines are available between 9 am and 5:30 pm from Monday to Friday. On Saturday, support services are only available from 9 am to 1 pm.
Aside from these communication channels, you can also find some solutions to your questions in the FAQs section. This section offers solutions to questions related to ordering, delivery, vouchers, gift cards, Angels, rating the wins and more.
How Do Their Ratings Work?
Every time you make an order, your wines will appear on the My Wines page to rate and review. The ratings and reviews are a perfect way to remember all of the wines that you have enjoyed and any that you are less keen on. You just need to let the company know if you would purchase the wines again or not.
Also, you can leave a one to five heart rating as well as a written review too; it is entirely up to you. The company uses customer ratings to decide where to invest your money, and it gives wine producers an invaluable steer on what is hot and what is not and where to improve. Also, they use customer ratings to recommend other wines that they think you will love.
Summary and Final Thoughts on Naked Wines
If you love wine, then Naked Wines will be a perfect destination for you. With a social and friendly community of fellow wine lovers, you're constantly being introduced to popular, new and exciting wines that you may never have experienced elsewhere apart from Naked Wines.
Then, of course, there are the wine prices. For high-end wine, you're paying seriously reasonable prices, making Naked Wines extremely good value for your hard-earned money, especially when you sign up to become a Naked Wine Angel.
It does not matter if you just like to share a bottle of wine with your partner or friends during the weekend; Naked Wines allow you to order as much as you like. With great features like Naked Wines Angels, a subscription model, a rewarding coupon system, a friendly support team and plenty of discounts on wines, Naked Wines has proven to be one of the best online shops in the world.
Be sure to visit the site today and sign up to enjoy reasonable prices, discounts on wines and lots of perks for Angel members.