Welcome to this page that offers a detailed Virgin Wine Club review. Our experts try all of the wine clubs in the United Kingdom so that you do not have to. From affordable clubs for individuals newer to wines to high-end wine clubs, the experts have joined, done the research, tested, and discussed all these to provide you with the best information and options to choose from. Today, we have this detailed Virgin Wines Club review, and we are sure that you will find it helpful.
In this review of the Virgin Wine Club, you will find information about the owner of this online wine shop, how it works, the types of wines that you can purchase, the voucher codes, the introductory offer, customer service and more. Before you can discover all these things, it is important to understand the origin and some history of this company.
Who are Virgin Wines?
Virgin wines is an online wine shop that was established in 2000. Currently, it is one of the United Kingdom's largest direct to consumer retailers, selling over 100 million bottles of good quality wine and winning some great independent awards. The company understands that its customers are an important part of its wine purchasing team. And in line with this, it has a unique purchasing model that puts the customers at the heart of what it does.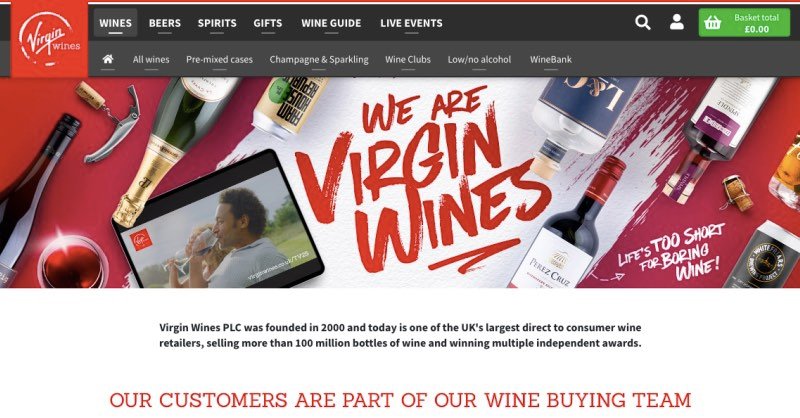 Each year, the company collects more than 100,000 Virgin Wines reviews, and it analyses this feedback to decide the styles of wine that it should be creating. The company then works with a wide network of trustworthy and reliable winemakers to blend more than 750 wines. The result is a wine product range featuring estate sourced wines that are crafted exactly to the consumer's tastes, with an average rating of 4.2 out of the maximum 5.
In 2019, the company also launched a wide range of craft spirits and craft beers and currently, it is working closely with some of the most respected brewers and distillers to create its own exclusive wine products at a reasonable price. Virgin Wine Online Ltd owns and operates this online shop. The company is registered in England and Wales, meaning it is legit and trustworthy.
Who Owns Virgin Wines?
Virgin Wine Online Ltd is the company behind this successful wine shop. It was incorporated on 5th July 1999, and currently, it has its headquarters in the United Kingdom. The company manages a website that serves as a local supermarket or a wine marketplace. It sorts all of its wines basically by tastes or styles. The strategy of the company makes its wine products more accessible to all types of drinkers.
While Virgin Wine conducts most of its business online, it boasts an experienced wine advisor team that also provides tips to customers and phone consultations. Virgin Wine Online Ltd is an independent entity, and it was established under Richard Branson's Virgin banner.
How Does Virgin Wines Work?
Virgin Wines is a company that is proud of its brand as well as to be part of the wider wine society. It collects its products from different wine regions and understands that its customers only need the best services. To enjoy any good wine, you need to create a new membership account with the Virgin Wine Club. Once you create an account, you'll first enjoy an introductory offer that is only available to new customers.
When you join the Virgin Wines Club, you will receive £40 off your very first order plus free prompt delivery. Once you become an active member, you will enjoy lots of virgin point rewards. You can only get your hands on these rewards when you purchase lots of great wines from the online shop. Aside from the fine wines virgin point rewards, you can also take advantage of other wine offers.
Currently, you can claim some offers such as a generous 10% off wines of Germany and others. After utilising these wine offers, you can continue making deposits and purchase wines from the website. The Virgin Wines Club website works similar to other online shops from across the United Kingdom.
To make a purchase, you need to have a membership account with the site as well as an accepted method of payment. Once you have these two things, you can deposit an eligible amount of cash and then make your first order.
Making the first wine order is simple and straightforward. The only thing that you need is to log in to your account, choose your favourite individual bottles of wine or a mixed case and then add it to the basket. The basket will then show you the total amount of money as well as the wine products that you want to be delivered to you. That is all you need to receive your bottle or case of wine. To help you learn more about how this company works, here are some common questions and answers.
How Can You Shop at Virgin Wines?
Do not worry if this's your first time making an order on the Virgin Wines Club website. Everything is easy and straightforward. There're two main ways to buy wine from this shop. And these ways essentially depend on the type of membership that you hold and what you are looking for in your wine, beer or spirit experience.
If you want a good deal on a case of wine, then you can take advantage of the Pre-Mixed Cases page. Also, you can choose to enjoy the browsing experience through the extensive array of exclusive and hand-crafted wines by utilising the All Wines button available on the top of the main menu and start collecting your own wines.
What Are the Order Quantities?
If you are picking your own wines, then you must order in multiples of cases. The Virgin Wines Club cases hold between six bottles and sixteen bottles. So your wine order will be made up in multiples of six, twelve or sixteen. Pre-mixed wine cases are available in different quantities, which include 16, 15, 14, 13, 12, 10, 9, 6, and 3.
The gifts section is a perfect match for you if you want smaller quantities. In this section, you'll find 1, 2, 3, 6 and 12 packs of bottles. If you have a particular quantity required for a special event like Christmas day, then you can contact the great service team.
What Wines Can You Buy from Virgin Wines?
One main thing that sets the Virgin Wine club apart from other wine clubs is its variety of drinking products. With its wide range of different wines, all customers are sure to get exactly what they want in terms of quality, quantity, tastes and more. There is always great stuff on the website for you to enjoy. The different types of wines that you can purchase include the following:
The White Wines
If you are looking to drink white wines, then you should know that they are available in three unique ways, which include very plain, testing alcoholic, and very bright (acidic). All these types of wines are generally food-friendly. Some top-rated white wines include Charles Smith Kung Fu Girl Riesling 2019 and Arid Valley White 2019.
The Red Wines
The red wines are, in most cases, medium-bodied, even the wine varieties that should be full-bodied. When it comes to sweetness, the red wines occupy a massive space with popular varieties like Meiomi Pinot Noir, Black Flag Winemakers Old Vine Grenache and Cascadia Yakima Valley 2018 available for selection.
Rose Wines
Rose wines are available in different guises, ranging from bone dry and fruit-filled to refined and sweet. The wine club has gorgeous rose wine for you to drink. Some of the popular types include La Sirene Shiraz Grenache Rose 2020 and Las Arbousiers Reserve Rose 2019.
Sparkling Wine
The shop's Champagne and Sparkling collection has something for every customer. Coming English Sparkling, Cava Up, Popular Prosecco, Sparkling Magnums, top of the range Champagne, and more are all available for you. Santi Prosecco and Extra Dry are some of the customer favourites.
Non-Alcoholic and Low Alcoholic Wines
Low alcoholic and non-alcoholic wine alternatives are also available at a good price. You do not have to spend a significant amount of cash to enjoy the best non-alcoholic and low alcoholic wines. At the Virgin Wine Club website, you will only find the best for the range so that you can enjoy a speedy delivery service and delicious tasting wines without the Alcohol.
If you want to enjoy alcohol-free and low alcohol wines for a fair price, then varieties like McGuigan Zero Chardonnay Alcohol-Free, Pierre Zero Alcohol-Free Chardonnay, and Real Kombucha Royal Flush are some of the wines that you can consider.
Organic Wine
These sulphite-free wines are 100% certified as organic at each and every point of their production process. They are created by top and passionate winemakers from different parts of the world working with the vineyards as naturally as possible.
The wines that you can get your hands on when you access the organic wine section include Famille Perrin Nature Cotes Du Rhone 2018, 50s Project Cult Cave Shiraz 2019 and Pablo Claro Tempranillo 2020.
Vegan Wine
Currently, the Vegan wines selection is over 300 bottles of high-quality wine. So whatever the type of wine you are looking to enjoy, ranging from red wine to Champagne to anything in-between, you will be sure to find it here.
Black Flag Winemakers Old Vine Grenache 2018, Dragon Hills Pinot Noir 2020, Santi Prosecco Extra Dry, Eghemon Passimiento 2019 and Brio Pinot Grigio 2020 are the most popular vegan wines that you can try out.
Vegetarian Wine
All of these wines are 100% Vegetarian. At the moment, there are over 450 unique bottles of Vegetarian wines. The wine club understands that not all wines are ideal for veggies since some use animal-based fining elements during the production process. The Watchmakers Tourbillion Reserve Malbec 2020, Black Flag Winemakers Red Blend 2018, Trois Celices Essential 2019, and Between Bridges Merlot 2019 are the consumer favourites.
Virgin Wines 12 Bottle Case Review
You can get lots of other delicious white wine, red wine, or rose wine by the case. The Virgin Wines 12 bottle case covers a wide range of styles and types, so whatever your taste, you will find a perfect deal for you. The twelve bottles of wine may come from a single or multiple winemakers.
Also, you can get mixed wine cases that have the best white and red wines from the leading wine producers. The best part is that all of the cases cater for all budgets and tastes. A standard case of wine has 12 bottles. And each bottle of wine is 750 ml, which is approximately five glasses. The whole wine case will provide nine litres of approximately 60 glasses.
Most cases have 12 bottles, but the Virgin Wines Club stocks some as huge as sixteen bottles. Also, 12 bottle wine gift cases are available for you to order if the wine is for a gift. Some of the most popular 12 bottle wine cases that you can order from the site include Customer Favourites Mixed Wine Case with Prosecco, 31 Days of German Riesling Case, Blow Your Socks Off Mixed Wine Case, The Summer Gin, Wine and Beer Drinks Box and 12 Bottle Prosecco and Fizz Case.
Virgin Wines Voucher Codes
Virgin Wines is a delivery hub that offers fresh tipples for connoisseurs and drinkers alike. Whether your preference is a glass of pink, white or red, a Virgin Wines discount code does not discriminate in terms of saving on your favourite tipple. If you are tired of the same bottle of wine that you have bought each week, you should drive into the world of discount vouchers and change your tastes at an affordable price.
The discount/voucher codes come with some terms and conditions that you must keep in mind when using them. As a customer, you can redeem your voucher from the shopping basket or on the homepage. The website will require you to provide your voucher number as well as a password. Once you have the voucher number and password, you will need to type them into their respective boxes and then click on the Redeem Now button.
You should be sure to check the expiry date and other terms and conditions on the voucher. If you are having difficulties in terms of entering your voucher details, you should retype them taking care and also double-checking their expiry dates. If you have checked both the expiry dates and spelling and you're still having the same problems, you should contact the support team.
Customer Service Review
The Virgin Wine Club features a dedicated customer service section. If you encounter any issue when verifying your card details, using the voucher codes, or you have an awful experience with the wines, you can keep in touch with the support team through:
Live Chat.
Phone (0343 224 1006/0207 796 4133).
The opening hours are Friday: 8 am to 8 pm, Saturday: 9 am to 6 pm and closed on Sunday.
Final Thoughts on Virgin Wines
Virgin Wines is a perfect option for new professionals, grad students, budget drinkers, or individuals who want a steady amount of wine in their homes. The wines come with tasting notes that can help you keep track of your favourite wine options.
And the best part is that the tasting notes do not provide a limited introduction to wine. With a great wine welcome offer, you should be able to create an account and try out some of the popular wines available.
Virgin Wines FAQs
Is Virgin Wines Any Good?
Yes, we think The Virgin Wine Club is a good destination for wine drinkers. It ensures that you get what you pay for and even exceed your expectations as a customer.
How easy is it to Cancel Virgin Wines?
It is easy to cancel your Virgin Wines subscription. What you need to do is to contact the support team through email (help@virginwines.co.uk) or phone (0343 224 1006), and you will get the help that you need.
Is Virgin Wines a Subscription?
Virgin Wines is a subscription service. Once you subscribe, you will be able to order bottles of wine handpicked from the top independent winemakers in the world.