The Sunday Times Wine Club provides its members with the opportunity to enjoy a massive selection of both red and white wines from different countries across the world. Apart from red and white wines, the Sunday Times Wine Club also offers rose wine, beer, cider, spirits vault and champagne & sparkling.
Established more than 50 years ago, the Sunday Times Wine Club offers different varieties of wines that will meet the needs and requirements of every member. Currently, the company has more than 23,000 satisfied wine lovers and club members who enjoy the quality and convenience of its wine plans.
As a club member, you can pick individual bottles of wine from mixed case and the finest French Champagne to Italian bubbly Prosecco, once you decide on your favourite wine plans for your taste. After creating a new account to become one of the wine club members, you will able to get your hands on a special introductory offer.
The Sunday Times Wine Club introductory offer provides you with the opportunity to save more than £100. This is one of the many Sunday Times Wine Club offers that you can take advantage of once you become an active member.
Since 1973, the company has gone direct to many winemakers in their respective vineyards to bring different wines of authenticity and character. Direct Wines LTD, a company registered in Wales and England operates the Sunday Times Club. Whether you love red wines, white wines, new wines or organic wines, you'll find the best options and bottles of all tastes.
Be sure to go through the whole of this review to discover more about the Sunday Times Wine Club offers, the latest news, customer service, voucher codes, and how the company works.
How Does Sunday Times Wine Club Work?
The company has a plan that helps it provide its existing as well as new members with a regular and convenient delivery of wine. There are various terms and conditions of use and sale that you need to keep in mind once you become one of the club members.
Every four, eight, or twelve weeks you choose the purchase and delivery frequency, and at holidays like Christmas, when eligible, the company will provide you with a selection of wines.
Each and every bottle of wine will come with detailed tasting notes. These tasting notes are important since they can help you keep a record of all bottles of wine you enjoy and get more information about them. You can make changes to the wine plans that the company offers.
Some of the changes that you can make include:
Changing the purchase and delivery frequency of your wine club plan.
Change the date of delivery.
Change the entire case to something totally different.
Swap individual bottles of wine for your favourites. Also, you can swap the bottles with new ones that you would like to try out.
To purchase a bottle of wine from the Sunday Times Wine Club website, you need to have either a debit or credit card that you will use to pay for your introductory offer case. There's no obligation to take any further cases; you can cancel your wine plan any time you feel like it or even miss a case.
To be on the safe side, you should let the company know by making some changes to your wine plans online by calling the customer support agents on 03330 148 168. And if you're a charter plus member or customer, you'll receive your charter plus bottles of wine with future wine club cases. To help you deeply understand how the Sunday Times Wine Club works, this review has the following questions and answers for you.
How Do You Track Your Order After Making It?
When it comes to making wine orders, you can track, change or cancel or gift. To track your orders, you need to follow the link supplied to you through email. Also, you can check your orders online by accessing your account and pressing on the Order History button.
The company dispatches each case when it's ready. That means the orders for different cases can be delivered separately. If this happens, you should not be alarmed. What this means is that the rest of the orders aren't far behind. Just be sure to visit the Order History section of your account once you sign in to your site account.
What Should You Do if You Receive the Wrong Wines?
If you discover that your wines differ from those you originally ordered, the workers may have changed the bottles to avoid delaying the order. Sometimes, the company may need to substitute your bottles of wines with those that are of greater or equal value or quality. And the best part is that all this takes place at no extra cost to you.
Why My Case Has Not Arrived?
If you have not received your order within the requested period, you should contact the Sunday Times Wine Club support team as soon as possible, and it will fully investigate the matter. Once the team of experts has investigated, you will receive information on why the case did not arrive within the requested timeframe.
Who Owns the Sunday Times Wine Club?
Direct Wines Ltd is the company that owns Sunday Times Wine Club. The company holds a license from Wales and England and it produces and sells wine accessories and other alcoholic beverages. It offers white, rose, fortified, dessert, and sparkling wines.
Also, it produces beers, mixed cases, champagnes and spirits. The company markets its wine accessories and products to customers across the United Kingdom and other countries in the world.
The company was established in 1973, and since then, it has been operating other wine clubs, including British Airways and NatWest. Additionally, the company operates a number of banks as well as other corporations. The company also owns a massive controlling stake in Virgin Wines, one of the leading wine retailers.
Direct Wines produces 20% of the 40,000 wine bottles it sells on different platforms. The company has played a big role in discovering and producing new wines for the British people and wine lovers from many other countries.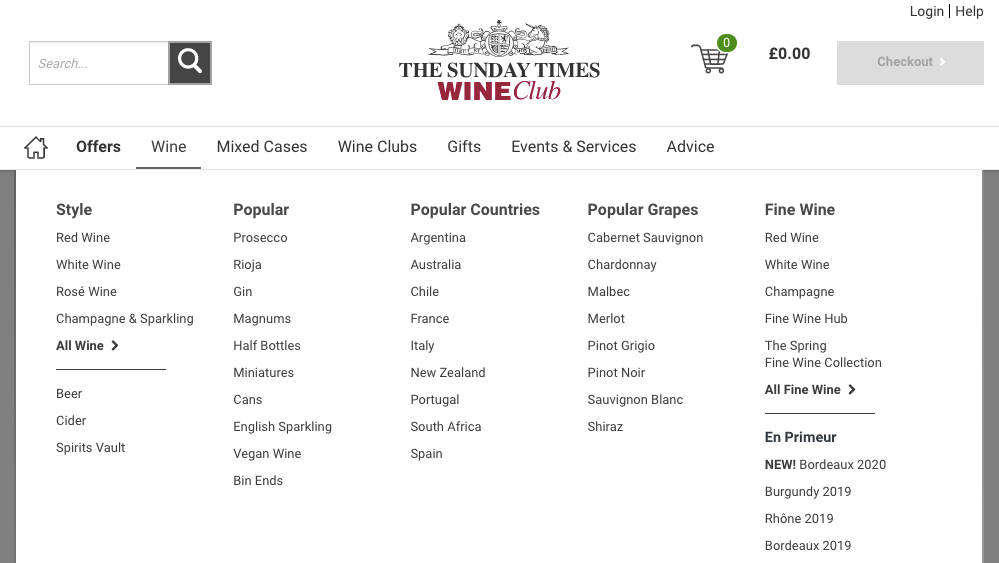 What Wines Can You Buy From Sunday Times Wine Club?
The Sunday Times Wine Club website offers a wide range of different wines. When you access the website, sign in and navigate to the main menu, you will find different categories of wines to choose from. The categories that you will find on the website include style, popular, popular countries, popular grapes and fine wine. You can either buy wine in a single bottle or mixed cases.
Style Category
Under the style category, you will find different types of wine, which include white, red, rose, beer, spirits vault, cider, champagne and sparkling. When you click on any of these categories, you will gain access to lots of bottles. You can filter by top sellers, and the best part is that there are lots of offers to take advantage of. Some of the popular wines in the style category include New Zealand Sauvignon and Beyond, Excelsior Viognier 2021 Pre-Sell, BBQ Black Reds, and others.
Popular Category
If you want to enjoy some popular wines that come with tasting notes, then you can click on the Popular button. Some of the categories of wines that you will find in this section include Bin Ends, Vegan Wine, Cans, Miniatures, Half Bottles, Gin, Rioja, Prosecco, Gin and English Sparkling. Prezza Prosecco Rose 2020 and Baron De Barbon Blanco 2020 are some of the best-sellers under this category.
Popular Countries
Whether you want to enjoy good value or new wines from Argentina, New Zealand, Italy or South Africa, no need to worry if you have a Sunday Times Wine Club account. With an active account, you will find some of the best wine products from countries like Spain, Portugal, France, Australia and Chile. When you take Australia, for example, you will enjoy the likes of McPherson the Full Fifteen 2020, Edenvale Sparkling Cuvee, the Black Stump Durif Shiraz 2020 and others.
Popular Grapes
The popular grapes section also offers many categories of wines. Visiting this section will allow you to gain access to top categories of wines like:
Cabernet Sauvignon
Malbec
Chardonnay
Merlot
Pinot Noir
Shiraz
Sauvignon Blanc
Pinot Grigio
All these categories have different types of wines, providing you with lots of options. Some of the top-rated wines that you can get your hands on include Long Live the King Cabernet Sauvignon 2018, Aluado Chardonnay 2020, and Don Cayetano Chardonnay 2020, among others.
Fine Wine
If red, white, or champagne wines are your favourites, then this section has got you covered. It provides you with only good wine options for you to pick from. Other popular types of wine that you will find in this section include Bordeaux 2020, Burgundy 2019, Rhone 2019, and Bordeaux 2019.
The Sunday Times Wine Club Voucher Codes
Occasionally, the Sunday Times Wine Club sends its customers different promotional voucher codes. As a loyal customer, you can redeem these voucher codes into fantastic club offers. The voucher codes are available to both new members and existing customers. To redeem your voucher codes, you need to enter the correct code into the available box in the payment section and then click on the redeem button.
Aside from the Sunday Times Wine Club voucher codes, the wine merchant also offers concessions. It works with various partners to offer concessions within the retail outlets. However, at these concessions, customers cannot redeem the gift as well as promotional vouchers.
Once you join the company and become a loyal customer, you will be able to claim different vouchers, which include:
Leisure voucher
Bonus bonds
One4all gift card
Love to shop
Using the Sunday Times Wine Club Voucher codes is not only easy but also straightforward. What you need to do is to click on the get code button and then copy the code. Follow the link to access the website of the brand and then press the Sign up button to access the registration form. After completing the registration form, you will need to deposit some money and then shop. To shop, you just need to add stuff to the basket and then head to the checkout section. Paste your code in the right box and apply before you use your money. It is that easy.
In the rare event, you experience any issue making a payment with a code/voucher, or you spot a discrepancy, you should contact the customer service team as soon as possible. The customer service team will do its best to resolve the matter.
Gift vouchers
Aside from the voucher codes, you will also come across gift vouchers. A gift voucher is a great reward for those who enjoy the spirit and wine offers at Sunday Times Wine Club. Any voucher that you purchase from the company's range can be used against a wide range of wines and offers, and they also come with free gift cards.
The process of using a gift voucher is similar to that of voucher codes. And if you encounter any problem when using the gift voucher, it is recommended to look for help from the customer service agents.
Customer Service Review
The Sunday Times Win Club has a special customer service section. In this section, you will find different categories, which include returns policy, delivery information, help and FAQs and contact us. All these categories are designed to help you solve any issue that you may have.
The delivery and returns customer service section will help you find information about the carriers, click and collect, free delivery, returning wine, returns policy and more. Before you can contact the customer service team, it is advisable to visit the FAQs section first. In this section, you will find questions and answers about orders, delivery and returns, wine, wine plans, payments and vouchers, as well as any other services available.
How to contact Sunday Times Wine Club
If you want to contact the customer service team directly, you can achieve that through email, live chat and phone (03330 142 776). You can contact the customer support team anytime and from anywhere since the support services are available 24/7.
Final Thoughts on Sunday Times Wine Club
Imagine getting your favourite wine or spirit delivered right to your home from one of the leading winemakers in the country as well as from across the globe. The tastes of fine wines are enough to elevate your spirit, such that even if you are a mood less fellow, you can get to enjoy your free time.
The Sunday Times Wine Club provides its customers with the ethical sale of a wide range of wines designed to meet the preferences of different clients. Before you can purchase wine from this company, you should be sure to read lots of reviews from customers who have shopped from the online shop to understand how the company operates.
The Sunday Times Wine Club scores highly in terms of service, and this reflects the success of the company in achieving its goals. It has a team of professional wine advisors who love to talk to customers about different wine products and give expert advice. Also, the company organises wine tasting events on a regular basis, including vintage events and occasions like weddings. Customers can also order wine gifts for their family members and friends.
If you are looking for a top wine shop in the United Kingdom, then you should look no further than Sunday Times Wine Club. It offers wines of different tastes and colours.
Sunday Times Wine Club FAQs
Is the Sunday Times Win Club Any Good?
Yes we think Sunday Times Wine Club is very good. All customers who have been purchasing wine from this online shop have only provided positive reviews about it. The service, quality and even the flavours of the wines on offer are excellent and at a good price.
Is Laithwaites the Same as the Sunday Times Wine Club?
In essence, yes. The Sunday Times Wine Club and Laithwaites are deeply related. Laithwaites is the parent company of Direct Wines who also owns Avery's and the Sunday Times Wine Club.
How Do I Unsubscribe from Sunday Times Wine Club?
You can unsubscribe from the Sunday Times Wine Club at any time by calling the support team on 03330 148 168. You can also use the Contact Us form available on the website to cancel your membership.