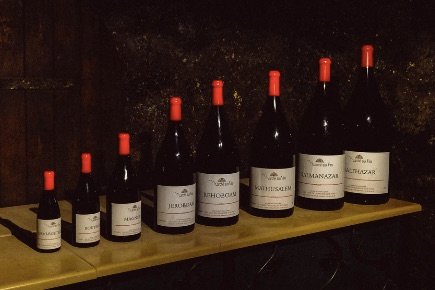 There are many different wine bottle sizes available around the world and they often come in different shapes especially with large format bottles. The bottle shape and unique wine bottle sizes can bring all sorts of benefits, and sometime problems when it comes to weight!
Wine bottles and wine bottle sizes can also vary between different wines, especially with champagne, sparkling wines and some French varieties like Burgundy and Bordeaux.
Let's take a look at the different bottle sizes available and compare them to a single bottle, or standard bottle as they're more commonly known.
Wine bottle sizes at a glance
| | | | |
| --- | --- | --- | --- |
| Bottle Name | Size in Litres | No. of Glasses | Size of Standard |
| Split or Piccolo | 0.875 | 1 | 0.25 |
| Half or Demi | 0.375 | 2.5 | 0.3 |
| Half Litre or Jenni | 0.5 | 3 | 0.6 |
| Standard | 0.75 | 5 | 1 |
| Litre or Liter | 1 | 7 | 1.3 |
| Magnum | 1.5 | 10 | 2 |
| Jeroboam or Double Magnum | 3 | 20 | 4 |
| Rehoboam (Jeroboam in Bordeaux) | 4.5 | 30 | 6 |
| Methuselah or Imperial (Bordeaux) | 6 | 40 | 8 |
| Salmanazar | 9 | 60 | 12 |
| Balthazar | 12 | 80 | 16 |
| Nebuchadnezzar | 15 | 100 | 20 |
| Melchior | 18 | 120 | 24 |
| Solomon | 20 | 130 | 26 |
| Sovereign | 26 | 175 | 35 |
| Primat or Goliath | 27 | 180 | 36 |
| Melchizedek or Midas | 30 | 200 | 40 |
What are the different sizes of wine bottles?
Split or Piccolo
Size: 187.5 ml, holds ¼ standard bottle or 1 glass of wine
A quarter bottle compared to the standard bottle size, this is the customary singular bottle, often made use of for sparkling wine.
Half or Demi
Size: 375 ml, holds ½ standard bottle or 2.5 glasses of wine
A half bottle compared to the standard size, this is a good choice for partaking in a modest glass of something special with another individual.
Half Litre or Jennie
Size: 500 ml, holds ⅔ standard bottle or 3 glasses of wine
Primarily used for Tokaj wine from Hungary or, Sauternes, a sweet wine from Bordeaux, France and other types of sweet wines.
Standard Wine Bottle
Size: 750 ml, holds 1 standard bottle or 5 glasses of wine
This is just know as plain old standard, and this bottle equates to approximately five 5-ounce glasses of wine. Many people think that the bottle size on a wine label is the number of ounces. It's not. The standard wine bottle dimensions are typically 3-3.2 inches in diameter & roughly 12 inches in height.
Liter
Size: 1 L, holds 1⅓ standard bottles or 7 glasses of wine
This bottle size delivers more bang for your buck and they have grown in popularity in recent years, particularly with value European wines.
Magnum
Size: 1.5 L, holds 2 standard bottles or 10 glasses of wine
For wines that deserve the attention of cellaring, a magnum bottle is the way to go. These are also a great option for parties because they make a dramatic impression on guests.
Jeroboam or Double Magnum
Size: 3 L, holds 4 standard bottles or 20 glasses of wine
When one magnum wine is not enough, the Jeroboam brings twice the volume. It's named after the first biblical king of the northern kingdom of Israel.
Rehoboam (Jeroboam for Bordeaux Bottle)
Size: 4.5 L, holds 6 standard bottles or 30 glasses of wine
Rehoboam was the son of Solomon and grandson of David (of David and Goliath fame). The Rehoboam is primarily used by the larger Champagne bottles houses.
Methuselah or Imperial (Bordeaux)
Size: 6 L, holds 8 standard bottles or 40 glasses of wine
The name of this bottle can refer to either an Imperial gallon or the oldest man in the Bible. It's like a party in a very large bottle!
Salmanazar
Size: 9 L, or 12 standard bottles or 60 glasses of wine
With a full case of wine in a bottle, the Salmanazar is named after an Assyrian King.
Balthazar
Size: 12 L, or 16 standard bottles or 80 glasses of wine
One of the Three Wise Men from the bible, Balthazar would have brought the gift of 16 standard bottles to the party.
Nebuchadnezzar
Size: 15 L, holds 20 standard bottles or 100 glasses of wine
Not to be confused with Morpheus' ship in the film The Matrix, this bottle is named after the longest-ruling king of Babylon.
Melchior
Size: 18 L, holds 24 standard bottles or 120 glasses of wine
This bottle holds two cases or 24 standard bottles of wine and tips the scales at almost 100 pounds (or 35kgs) and is named after one of the Biblical Magi along with Caspar and Balthazar who visited the infant Jesus after he was born.
Solomon
Size: 20 L, holds 26 standard bottles or 130 glasses of wine
Rumour has it that King David's son, Solomon, would only drink his wine from this bottle which holds 26 bottles.
Sovereign
Size: 26 L, or 35 standard bottles or 175 glasses of wine
Champagne producer Taittinger created this huge bottle in 1988 for the launch of what was then the world's largest cruise liner, Sovereign of the Seas.
Primat or Goliath
Size: 27 L, or 36 standard bottles or 180 glasses of wine
Aptly named the Goliath, this bottle holds three cases or 36 standard bottles of wine, which could power the biggest parties in one go!
Melchizedek or Midas
Size: 30 L, or 40 standard bottles or 200 glasses of wine
The largest bottle of wine available to humanity would probably last only a few hours with Marwood, Withnail and Uncle Monty, and stands at over 4 feet tall.
What are large bottles of wine called?
The most common known large bottles of wine are called Magnums which are twice the size of a standard bottle of wine.
What size is a standard wine bottle?
A standard wine bottle is the most widely termed and holds 0.75 litres or approximately 5 glasses of wine.
What is the largest size bottle of wine?
The Melchizedek or Midas is the largest bottle of wine available to buy. However, the world's largest bottle of wine dubbed the 'Maximus', is a Bordeaux-style bottle of Beringer Private Reserve Cabernet Sauvignon and weighs 150 lb (68kg) empty.
The bottle's actual height, confirmed by the Guinness Book of Records, is 1.38m, and it holds 130 litres, or 173 bottles. That's 1,200 glasses.